Archive for the 'tech' Category
Oct 2015
June 2015
Rated Distinguished on the LEAP framework, the highest rating for a teacher in Denver Public Schools.
May 2015
Recruited to teach a Media Studies course at Johnson and Wales University. Radio, Records, and Popular Music.
April 2015
March 2014
Feb 2014
Hosted the third-annual Denver Public Schools Regional Poetry Slam at Denver School of the Arts. Students from ten schools competed for spots in the final round.
Oct 2013
June 2013
May 2013
April 2013
Featured students in this highlight video from the 2013 DPS Poetry Slam Championships.
Rocky Mountain PBS and KUNC co-reported on the DPS Poetry Slam held at the Denver Art Museum. Audio and video here.
March 2013
Interviewed by Fox 31 news about co-organizing a district-wide poetry event to honor the passion of an East High School student injured in an accident. Article with video link.
Organized regional qualifier poetry slam at DCIS with colleague Neil Pollard website here.
Nov 2012
Certified in Linguistically Diverse Education and Social Studies.
Presented to Chipotle's leaders and DPS's sustainability department at the Chipotle headquarters. Write up here and permanent link
Oct 2012
Sept 2012
Aug 2012
May 2012
Apr 2012
Telemundo filmed my class and interviewed my students about using technology to enhance learning and understanding
CBS Memphis visited my classroom to observe effective utilization of technology in an urban setting
Feb 2012
Jan 2012
July 2011
May 2011
My 8th grade student won the National Campaign to Stop Violence, "Do the Write Thing" contest. He traveled to Washington D.C. as an Ambassador. He presented his views on youth violence to national leaders such as the Secretary of Education, the Secretary of the Interior, the Attorney General of the United States, the Administrator of the Office of Juvenile Justice and Delinquency Prevention and Members of the Congress. Here's a behind the scenes look at his poem. And, here's the school's press release
Appointed Language Arts teacher at High Tech Early College where I designed a school-wide reading initiative and taught concurrent-enrollment courses
April 2011
Four of my 8th grade students won "semi-finalist" for the Do the Write Thing contest and attended the annual awards dinner on Wednesday, May 11, 2011, from 6:00 to 9:00 p.m. at the Mile High Station in Denver
A student I mentored at the high school was awarded the Sach's Foundation scholarship
March 2011
February 2011
O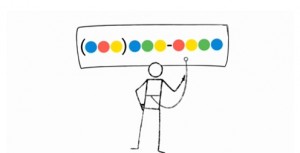 k, I could tell you all the myriad reasons why you should (or might want to) use Google Voice. But, a friend of mine basically said, "make me care." So I'm going to tell you a couple real life scenarios where Google Voice just about saved my buttocks. If you don't know what Google Voice is, you can start by reading this article and decide if you want to come back and let me convince you to use it.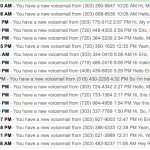 Use case #1 – Telephone overload. My wife and I acquired a free baby grand piano. It's sweet. But we already had an 1863 upright grand that has seen better days. We originally got the first piano on Craigslist under the free section. I thought, let's give it back to the community for free, too, so someone else can have a starter piano (it's not in the best shape, but would be a great candidate for restoring). Little did I know that 4 seconds after I added the posting to Craigslist, my phone would start ringing off the hook. (Sure, I could have said for people to email me, but let's face it, when you want to arrange something to be picked up, email is not the best option). I received 47 calls about the piano within the first 24 hours. You do the math, that's a lot of phone calls every couple minutes.
Solution: "Do Not Disturb." By enabling the do not disturb mode of Google Voice, I was able to have the calls routed straight to voicemail and still transcribed and sent to me as a text. Getting a text once in a while is not nearly as bad as your phone ringing off the hook. (Especially when you have

some parents or others around who can't stand that some people actually ignore incoming phone calls, grab your phone, and bring it to you in the backyard where you're busy weeding the garden).
Use #2: Texting. I text with some people alot. As in, we have the same amount of conversations over text as others would normally have over Instant Messaging. Here's the deal: I have an iPhone, so I already sync my contacts with my gmail account, so getting all my contacts into Google Voice was a snap. Sending an SMS from Google Voice is simple: you start typing the name or number and it auto completes.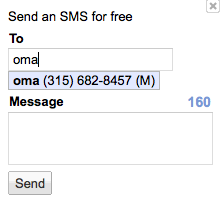 And, since I work from the computer a few hours each day, I'm always around one. If I'm upstairs in my office, I can send a text. If I'm on the back patio where my laptop likes to hangout on nice days, I can send a text. In fact, it's faster to open the laptop, fire up Google Voice and send a text than it is for me to find my cell phone (damn thing has a mind of its own), bring it down to where I'm working, and send a text over the phone. Are you a fast typer and do you hang out near a computer? If yes, get GV just to send some texts. Oh, and did I mention that your text messages and transcribed voicemail are kept in an inbox? Can you say searchable? Take a look at this screenshot, you can't do this with your current voicemail, trust me.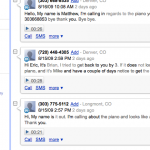 Now, I know what you're saying: Turning on "Do not disturb" might make me miss an important phone call. Well, if something is so important that you can't miss it, you should still give out your real phone number, not your Google Voice number. Google Voice doesn't support porting yet, so you'll have to managed 2 phone numbers or tell your contacts to change you number. Then they'll get all confused when you forget and call them from the older number. Especially now that Apple has rejected the iPhone app for Google Voice, GV is not a viable alternative to your real phone.
It is, however, a very powerful tool to have in your arsenal. Just like you have a need for Firefox and sometimes perhaps Opera or Flock as web browsers, you should grab a Google Voice number and hang onto it.